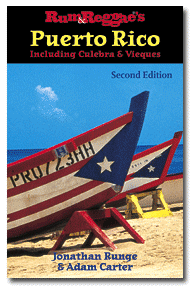 Available Now
Rum & Reggae's Puerto Rico, Including Culebra & Vieques
Second Edition
by Jonathan Runge & Adam Carter
paperback, 208 pages
As the wheels scrape the runway upon landing in San Juan, there is a burst of applause from the Puerto Ricans on the plane. We've always been amused by this custom and pondered (but not too much) why they do this so often. After many visits to this exotic isla latina, we think we understand. Who wouldn't be happy to be here? Puerto Rico has a cosmopolitan capital, verdant mountains, beautiful beaches, a very lively populace, eclectic dining, high-end hotels, excellent salsa, and the convenience of still being in the U.S. and a nonstop flight from most major U.S. and Canadian hubs.

Better still, Rum & Reggae's Puerto Rico, Including Culebra & Vieques will help you find and experience all the best of "La Isla del Encanto." From the pulsating nightlife of San Juan (both gay and straight) and the architectural wonders of Old San Juan to the rain forests of El Yunque, the surf breaks of Rincón and the serenity of Culebra & Vieques, we are there, giving our own brand of critique for the savvy and in-the-know traveler.

Rum & Reggae's Puerto Rico is the only book you will need for your trip. Everything you need to know is in these pages. We provide the inside scoop on PR, every worthwhile place to see (and which ones to avoid), as well as the 411 on accommodations, restaurants, nightlife, beaches, activities, and more. And we give you the freedom and flexibility to make discoveries all your own. If we like something, you'll know it. If we don't, duck! So let Rum & Reggae be your guide to fun and good times in this land of heat, passion, and salsa.